Are you finding online about how to get rid of the hacker in mini militia to play without hackers? If you are playing mini militia, you must have met a time with Doodle Army 2: Mini Militia Hackers. When you must have felt that someone cheats because you find it very difficult to kill that player or that player never dies. Mini militia mods have become so common nowadays. Those of you who like to stick with the original version, it is very important to know the mini militia hacks to avoid them.
Yes, I came across hackers so many times. In simple terms, they are players who use a modded version of the game. Always remember If you fight with a hacker in the Doodle Army 2: Mini Militia game, you will never win. The faster you recognize a hacker, the better!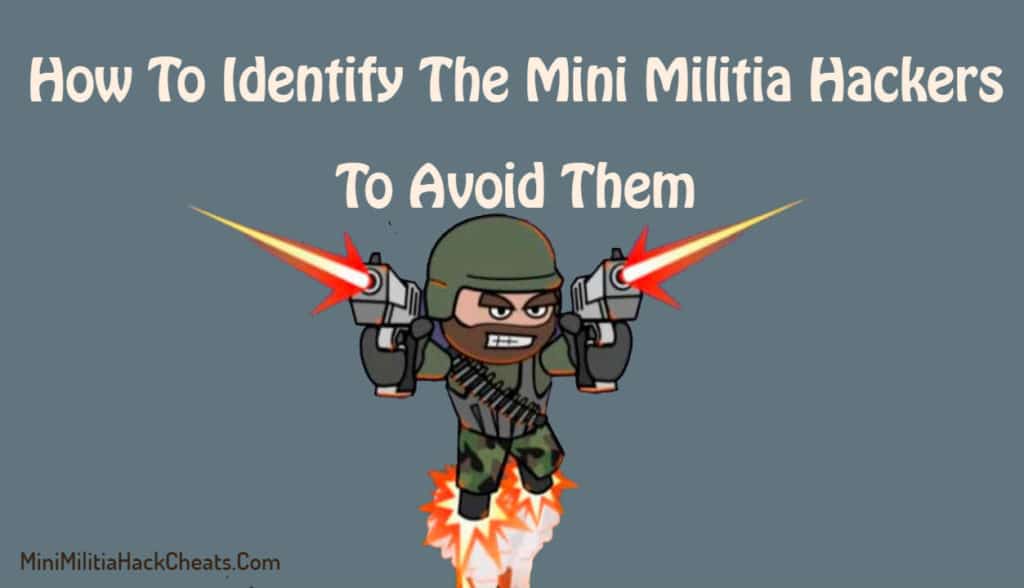 But in the recent game updates have prevented hackers from joining the original game server. If you play the authentic version of the game, it will be very rare that you confront a hacker.

So if you want no hacker, just download latest Mini Militia Apk the game from our site or get it from Google play store and enjoy. But Only Mini Militia Pro Pack Modded would not be detected by the server.
Avoid Hackers on Mini Militia Online Play
Can't avoid hackers on Doodle Army 2 mini militia online. Because Appsomniacs LLC didn't patch this vulnerability yet. It is the most vulnerable game in Google play store, can easily be modified by a newbie hacker as well.
The reason behind it they didn't put any encryption on the data type and variable in background coding.
WHAT ARE THE DIFFERENT TYPE OF HACKS AND HOW TO AVOID THEM?
Unlimited boost hack: if you find a player in the air longer than you expect he is using a boost hack. This player can fly as long as he wants without worrying about refueling his boost.
God mod: A player using this hack will have an unlimited life with unlimited boost and ammo too. This is the ultimate hack.
One shot kill hack: player using this hack will kill you with one shot using any weapon. Be it a pistol or a sniper.
Unlimited ammo hack: player using this hack has the ability to fire continuously without reloading his weapon.
Wall Hack: Player can be walk through any walls.
Above hacks can also be found in combinations:
– Unlimited boost hack + Unlimited ammo hack.
– One shot kills hack  + Unlimited boost hack.
When playing online most players with high skill points can be a hacker. Most players whose skill point =99  and above. Players carrying a high skill badge can also be hackers.
If you want to play with your friends online and you don't want to play with a hacker then you have to host your own server in mini militia and secure this server with a password key that only known person would able to play with this server.
This is the only solution. It was pretty easy for me to hack into mini militia and mod the apk just for my testing purposes. And finally, I got to know there is no alternative solution to avoid the hackers.
If you find such players I would recommend you to leave the lobby and join another.
See also:
How to report hacker in Mini Militia (Doodle Army 2)
 And yes, you can face hackers even if you are not modded yourself, but only in custom rooms. Quickplay servers are secure with no hackers.
Now, for the answer. You can't avoid hackers, but you have a way of reporting them. In the game chat, when you notice someone hacking,
Type "DA2ID" in the game chat (without double quotes).
Then press health bar, you will see the ID of all gamers.
Screenshot that, and email the hacker's ID to DA2 support.
They will investigate and will ban the player.
Hope it helps to Identify the Mini Militia Hackers to Avoid in 2018 them if I have missed anything let me know in the comment.
Thanks for reading