Change facebook name even after the limit in 2022: I do not think I should do an introduction on Facebook as I do an intro about any topic I'll discuss before starting a job. Well, I shared some quick facts on Facebook at the end of this post. Make sure you do not miss these interesting statistics. Now let's get into our topic, How to change your facebook name even after the limit in 2022?
Some basic information about change facebook name after limit 2022
You might be knowing that facebook allows you to change your name more than a couple of times after you created your account. Facebook insists always enter your legal name on your account as there are a lot of cyber crimes that occur nowadays, using social media. Some people frequently change their name on facebook and they are reluctant to enter their original names may be because of privacy issues. I suggest you always use your real legal name on facebook and it will bring you more good than harm. Now our concern is that we need to change the name on Facebook, even if you have changed the name to the maximum time allowed. Go through the section below.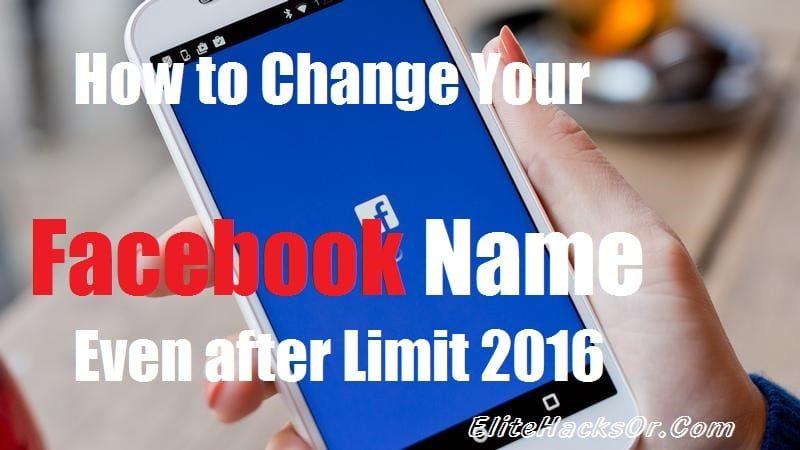 Method #1: How to change your name Facebook after limit 2022 via ID Copy?
Please make sure that you had changed your name on facebook for the maximum number of times before entering this procedure. We will depend on the Facebook support system to change your name. Follow the steps below;
Log into the facebook account for which you want to change the name.
After that paste the link below to your browser's address bar and press Enter or click the link below.
https://www.facebook.com/help/contact/1417759018475333
You'll see something like the screenshot above screen.
Fill the form with your original coordinates and upload any government documents such as Driving license, Voters ID Card etc, through the navigation button to show your name.
To see what type of documents facebook accept, see the below section.
Now click on Send to send the documents.
Within 1 or 2 days your name will be changed into the one in the document.
Please note that this option allows you to change your name to your legal name as mentioned in one of your government documents because to change the name even after the deadline we have to send one of these documents Facebook to support Centre so that they change the name to what it is mentioned in the downloaded document.
What type of ID Facebook Accept?
You can confirm your identity in 1 of 3 ways. Upon submission of the documentation, please cover all the personal information that we do not need to verify your identity (eg credit card number, social security number). We estimate people's connections to Facebook by default, including ID that you send us. We delete your credentials after verification is complete. Learn more about how Facebook protects the privacy and security of your information when you submit an ID.
How do I upload my ID to Facebook?
To upload a copy of your ID:
Take your ID and cover up any confidential information (ex: your license or passport number)
Scan or take a close-up picture of your ID
Make sure you can clearly see your name, birthday and photo
Go back to the contact form, click Upload and select the file containing your ID
Method #2: How to change your name Facebook after limit 2022?
Well, I can help you. In this state, when Facebook turned its back against you, you need to find another way to solve your problems. And this is the time when you need to find another solution. No need to scratch your hair or thinking for the solution and banging your head into the wall because I've already done.
I did some research online and found a method known as the transfer method. In this method, you create your own page and give it any name random user and details. After successfully created the page. You go into the settings and change your
USERNAME (no NAME) of the page your user name and asks if you want to transfer your username or not.
So do this steps as I tell you to change your name Facebook after limit 2016;
Create a Facebook Page
Go to About tab (in your Created Facebook Page)
In your Created Facebook Page > Click on Page info
CLick on Change Web Address in Facebook Web Address tab
And it will ask you to provide an username
Now enter your LAME username there.
And it will say it is already YOUR username. Click on transfer username.
CLick on Yes
And then delete that Facebook Page.
Thats it! you just get rid of your username LAME. Now you can even change the setting.
Note: – A user can not change their user name, but at least they get rid of their old usernames. Why they can not change their user names is still a story!
Read more:
I really hope it's Change Your Facebook Name Even after Limit 2022 for you. 🙂